Preparation of Financial Statements and Taxes
Working with business from the very start of business assisting with setting up accounting systems to efficiently collecting all financial data required for a complete accounting system through which the financial statements are generated. We also work closely with businesses in collecting and extrapolating the relevant financial data required to prepare accounts and financial statements for various stakeholders such as financiers, tenders, taxes, management, and shareholders. All done in accordance with international SME accounting standards.
This involves individual tax returns, partnership tax returns, and corporation tax returns.  We also work with businesses in responding to assessments and queries from the various tax authorities and Government agencies to get the best results for these businesses. We also provide advice and guidance on taxes and tax planning; being proactive through one on one engagements and through seminars such as the Tax Planning Seminar held in 2018.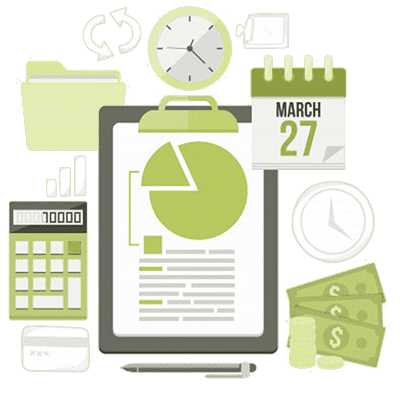 Accounting Advisory and Training Services
We provide advice, guidance, and assistance in setting up and maintaining the relevant computerize accounting systems most suited for specific businesses and organizations. We also train staff of various organizations on proper accounting practices through one on one engagements and through seminars such as ' Learn and Earn; Accounting to Business Management' seminar held in 2019.
An effective payroll system requires employers to keep a record of wages and payroll deductions. We deliver exquisite service to all our clientele while keeping in accordance with the payroll tax regime.
Financial Planning and Consultancy
Providing in-depth and detailed feasibility study and research, advise and assist with business registration and restructuring for growth and development. Assisting with the process of procuring funding of various types such as debt and equity, working directly with businesses and financiers.
We assist businesses to become financially viable, improve attractiveness to obtain financing, and advise on how to become effective and efficient financially. We have been doing this through one on one discussions and guidance and through seminars (Business Growth Amidst Crisis in Tobago; held in 2017). We also provide tax consultancy again through one on one engagement and seminars (Tax Planning; held in 2018).
In this growing economy, businesses are evolving, emerging, and expanding. With our expertise, we can usher you in the direction you desire.
Request A Free Consultation
Our friendly and professional Financial Advisors are waiting to answer your questions.